Post by pats2001 on May 3, 2020 3:01:54 GMT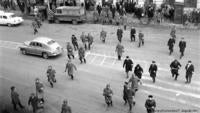 PART 19/Polonaise
When Dwight Eisenhower originally coined the concept of the "domino theory" in 1954 to make his case for supporting the government of South Vietnam against the Viet Cong insurgency, his logic was that if South Vietnam fell to the Communist North it would spark a chain reaction of other U.S. allies in southeast Asia being overrun by the Communists. Ironically, the outbreak of the Czech War had triggered a domino effect in reverse as one Warsaw Pact client state after another was breaking away from the Soviet Union. Alexander Dubcek had knocked over the first domino when he pulled Czechoslovakia out of the Warsaw Pact, the late Nicolae Ceausescu had tipped over the second by supporting Dubcek, and the third would topple shortly with East Germany's surrender to NATO(although the German Democratic Republic wouldn't be formally dissolved until early August of 1969). In spite of the Gomulka regime's best efforts to maintain its fragile grip on control of its people, Poland was steadily shaping up to be the fourth domino. The merciless brutality government security forces had inflicted on dissidents in the Market Square Massacre was proving to have just the opposite effect of what Gomulka had intended: far from being intimidated, the anti-Gomulka protest movement was growing more defiant than ever. Of course, it may have helped their cause a bit that West Germany's
Bundesnachrichtendienst
counterintelligence branch was now providing some covert financial assistance for their efforts.
By the time of the Leipzig mutiny the largest anti-Gomulka organization,
Nowa droga naprzód
("New Way Forward", often shortened to simply "New Way"), had over three million members out of Poland's total population of 29 million, with branches in nearly every major Polish city. Warsaw alone was home to three New Way chapters, one of them situated just two blocks from SB central headquarters. One of New Way's greatest successes in its campaign to end the Gomulka dictatorship was the three-day Lodz tram workers' strike which began on October 6th. Like many other Polish cities in those days, Lodz relied heavily on its tram system for transportation of its citizens; with the system effectively shut down by the strike, Lodz's industrial plants soon ground to a halt since plant workers couldn't get to their jobs. This sparked a political crisis at the highest levels of the Polish government-- one so severe it prompted Gomulka to convene an emergency session of the Polish United Workers' Party Politburo less than 24 hours after the strike began. The session quickly devolved into an orgy of finger-pointing as every man in the room blamed the others for New Way's growth into a major threat to United Workers' Party rule. One of the men present at the session, former Katowice industrial district leader Edward Gierek, felt a strong and growing sense of discouragement; in his diary that same evening, he confided his fears that Poland was heading toward, in his words, "political Armageddon". While there has been considerable debate for decades about when precisely Gierek made the decision to enlist New Way's cooperation in his bid to overthrow Gomulka, it's widely agreed that the October 7th Politburo meeting marked a crucial turning point.
Gierek's main compatriot in his plan to oust Gomulka was Jan Dobraczyński, a member of Poland's Sejm parliament who also held the rank of general in the Polish People's Army. Dobraczyński was used to taking serious risks, having helped shelter Jewish children during the Nazi occupation of Poland and fought in the 1944 Warsaw Uprising. By the time the Lodz tram workers' strike ended on October 9th, Dobraczyński and Gierek had made preliminary arrangements for a secret meeting with acting Polish interior minister Wiesław Ociepka to lay the groundwork for a
coup d'etat
. In the early morning hours of October 11th the three men got together in Gierek's office; exchanging handwritten notes to foil potential SB wiretapping, they put the finishing touches on their plans. The next day Dobraczyński arranged for Polish army units sympathetic to New Way's cause to be recalled from the Polish-Czech border on the pretext of rotating tired men home in favor of fresh troops-- in reality these units were intended to occupy key strategic points in and around major Polish cities as a safeguard against a possible countercoup the by pro-Gomulka forces. Worried the Soviets might invade Poland to try and quash the planned rebellion, the general also contacted fellow New Way sympathizers at the Polish foreign ministry advising them to alert U.S. and allied defense officials in West Germany to the impending revolt so that NATO military assistance could be requested if worst came to worst. Not wanting to repeat the tragic mistakes which had doomed the Polish Home Army's 1944 campaign against the Nazis, NATO agreed to station aircraft carriers from the U.S. 6th Fleet and the Royal Navy's Western Fleet within striking range of northern Poland and place two detachments of U.S. Marines on standby in West Germany; F-4s of the U.S. Tactical Air Command and Hawker Hunters from RAF Strike Command were deployed to western Czechoslovakia to furnish air support for the insurgents in southern Poland.
The anti-Gomulka insurrection, officially code-named "Operation Sikorski" and known in modern Polish history books as the Autumn Revolution, began in earnest on October 14th with New Way calling a nationwide general strike of Poland's civilian industries. Incensed at this blatant defiance of his authority, Gomulka went on state television to order the strikers to return to work...only to be arrested by rebel soldiers just five minutes after the broadcast began. While the much-feared Soviet intervention never materialized, there was considerable fighting on the streets of Poland's cities as the rebels clashed with troops still loyal to Gomulka in what amounted to a civil war within the larger conflict between NATO and the crumbling Soviet bloc. Many New Way members became de facto guerrilla fighters, using homemade weapons to help defend the rebel troops against the forces of the Gomulka regime; indeed, the now-ubiquitous phrase "improvised explosive device"(IED) is thought by many historians to have originated in BBC news reports describing how the New Way partisans used these munitions to undermine government forces' morale.
Perhaps the most iconic moment of the Autumn Revolution came on October 17th in an event which has since come to be known as "Poland's Bastille Day", when rebel troops and New Way activists stormed Krakow's notorious Montelupich Prison and freed scores of political prisoners from SB detention. From his own jail cell back in Warsaw, Gomulka listened with increasing alarm to his guards' conversations about the rebel forces' victories against his troops and clung desperately to the fading hope that outside intervention might yet save his regime from final collapse. That hope died once and for all on October 19th when acting East German chancellor Friedrich Dickel signed the instrument of surrender formally ending hostilities between East Germany and NATO; forward-thinking people on both sides of the Iron Curtain quickly realized this surrender was in effect the first step towards an eventual reunification of Germany-- and that the post-reunification German government would more likely than not continue to side with NATO against the Soviet Union. Within hours after the West German government officially announced the surrender agreement, Gomulka was found dead in his cell; although rumors persist even today that Gomulka committed suicide, those with first-hand knowledge of Gomulka's final days believe it's far more likely he succumbed to a fatal heart attack brought on by anger over what he no doubt perceived as a betrayal of the fraternal ties between the GDR and the Polish People's Republic.
The Autumn Revolution, and the Communist era of Poland's history, came to an end on October 22nd when the last pro-Gomulka army unit surrendered at Poznan. With his power base secured for the short term, Gierek made three decisions that would have a profound effect on his country's future: the first was to open discussions with the New Way aimed at finalizing a timetable for the transition to multi-party government, the second was to terminate Poland's military alliance with the Soviet Union and order all remaining Polish forces on Czech soil withdrawn back to Poland within 40 days, and the third was to commission an inquiry into the Market Square Massacre. It was the third decision in particular which would have the greatest long-term impact-- but that lay in the future.
For the Kremlin, the fall of the Gomulka regime was a nightmare of almost Biblical proportions. At the height of the Warsaw Pact's power just prior to Albania's split with the Soviet Union in the early '60s, Moscow had had seven European allies it could rely on case of war with NATO; now it had lost five of those allies, and worse yet three of them had defected to the enemy camp while the fourth would shortly cease to exist altogether. The only partners the USSR had left in Europe were Bulgaria and Hungary-- and it was anybody's guess how much longer Hungary could be counted on if the latest intelligence reports from the KGB station chief in Budapest were any indication....
TO BE CONTINUED