Post by TheRomanSlayer on Dec 18, 2020 4:01:42 GMT
Chapter Six: A War in the Making/Ang Bagong Guerra?
Excerpts from "A Nation in Mourning"
By: Arturo Tolentino
Atlas Publishing, published 2002

Chapter Ten: The Calm Before the Storm
I did not realize it at that time, but Colonel Tadiar's decision to take out Jose Maria Sison back in October of 1986 was not only a bold and risky move, but dangerous as well. Dangerous, as in it aroused a hostile reaction from President Aquino. As she promised, she would give orders for Colonel Honasan to arrest Colonel Tadiar. What none of us realized, was that there was one loose end we forgot to consider: what did we do with General Fabian Ver? That was the question I was afraid to ask Colonel Tadiar, because not only did we not know what happened with him, but he might come back from wherever he was and launch a coup against President Aquino and arrest us all at the same time. It was a good thing I went back to Quezon City after spending several months in the company of Colonel Tadiar and the increasing number of junior officers seeking to align with him.
Now, I played host to the current Vice President of the Philippines inside my own home to negotiate a deal between the Aquino administration and the hotheaded military leaders surrounding the so-called Three Stooges from the Pasig, which is a nickname they mockingly called Colonel Tadiar and Majors Aromin and Doromal. I was not going to like what Vice President Salvador Laurel wanted to say to me, but I did not have a choice in the matter. I am playing host to him, and I had to listen to whatever he said.
"Your experience with Colonel Tadiar is a valuable one, Arturo. However, the death of Mr. Sison was not something that our administration wanted, even though we are still technically at war with the New People's Army," Salvador Laurel explained. "The military's fears of Mr. Sison fleeing from the country is valid, which was why upon his release from prison, President Aquino had confiscated his passport to ensure that he would not run away. While that appeased the military, it still was not enough for Colonel Tadiar, and so he gave the order to kill him."
I grumbled. "Mr. Vice President, while I had reservations on the move made by the good colonel, I agree with your statement that it was a dangerous gamble. However, judging by the moves of the military, they are desperate to win the war against the communists and will do anything to win. Even if they had to resort to using paramilitaries. Just yesterday I saw a group of Alsa Masa members mount a machine gun they have taken from executed communist rebels into a pickup truck. The more of these paramilitaries crawl around, the bigger the danger it will be. I still do not know where is General Ver located."
"Which is exactly why you need to convince Colonel Tadiar to surrender and turn himself in," Salvador suggested, but he noticed the change in my facial expression. "I know how difficult it is, but if we do not get a hold of him, he may end up taking power from President Aquino and we will have an even more brutal dictatorship than even former President Marcos."
"He won't let himself be captured. The RAFM are already split between supporters of Honasan and Tadiar, and we still have to find General Very before he deals a lot of damage to us all," I spoke in a hushed tone. "And the communists are still out there in the jungles and the mountains."
"It seems we're at an impasse," said Salvador sadly. He stood up from the chair he sat on and left, but not before turning back to me. "I honestly hope that you would still have the courage to tell Tadiar to turn himself in, or else you would be responsible for his possible rise to power."
"I'm powerless, Salvador! Do you think that Tadiar would still trust me, even after I tell him what you just told me? He can lock me up beside Macoy in Fort Bonifacio and I would deal with his rantings. From what I heard from the soldiers who guarded him, they are saying that Macoy's health is declining. He is not in any condition to travel, let alone stand on trial for the crimes he has committed!" I replied bitterly. "He might even die tonight, or in a year, unless he's moved elsewhere."
Salvador nodded sagely and left. I pondered on what my next step will be, and though I hate to admit it, the current Vice President has a point. I have the power to decide whether Tadiar will be allowed to roam free or to nip the problem in the bud before it becomes a tumor on our nation. Unfortunately, we already have another tumor to deal with in the form of Fabian Ver. Where is that general anyways? Before I could start my dinner, I turned on the television and yawned. I was about to drink some water when the news started. Nothing unusual was broadcasted so far, but I would not wait for long until something else comes up. That is, when the phone rang. I picked it up, only to hear Major Aromin on the line.
"Arturo? This is Saulito speaking," Major Aromin said over the phone.
"What is it?" I asked back, curious as to see how Aromin could talk to me, not knowing whether the phone was being bugged or not. Even after Marcos's downfall, I still have the fear of seeing the phones being bugged. "It's not like you're calling me to have a conversation."
"I'm sending the 1st Scout Ranger Regiment to your house now," Aromin replied in a hushed tone. "One of our spies from within Honasan's camp told us that Fabian Ver may be launching his own rescue mission to retrieve former President Marcos. We need you to come with us so General Ver cannot kill you."
---
Portions from the Interview with Benigno Simeon Aquino
Global News Canada Interview, January 12, 2000

Discussing Fabian Ver's Role in Tadiar's Rise to Power

Interviewer: Let us recap this, Mr. Aquino. You have stated that former Defense Minister Fabian Ver was singlehandedly responsible for the establishment of
Brigadier General Tadiar's dictatorship
, correct?
Aquino: Correct.
Interviewer: I do not understand why the controversial officer who had at one point had the former Defense Minister at his mercy, would suddenly play an indirect role in his rise to power and the establishment of his own dictatorship.
Aquino: General Ver was a loose end that both Aquino and Tadiar had neglected, and when he was assured that no one can see it coming, he started to engineer a series of events that led to what many historians call the Last Gamble. No one has indeed seen it coming, and it reached the point where most soldiers stationed in Fort Bonifacio had become lax in their security that they did not see their fellow soldiers being replaced quietly with men who were most loyal to the late dictator. Tadiar made one mistake during his arrest of former President Marcos: he forgot to kill General Ver, and he certainly paid for it with the capture and execution of Marcelo Blando on charges of treason against the state. Or rather, Ver's perception of the Filipino state as if Marcos was still president.
Interviewer: Some say that the execution of Blando was a calculated move by Tadiar in order to install one of his loyal followers into the position as commander of the 1st Scout Ranger Regiment within the Philippine Army, while others say that Blando was sold out by Tadiar in order to insert Major Aromin or Doromal into the same position. What is your opinion on what they were saying?
Aquino: By that point Blando was being pressured by my mother to arrest Tadiar, Aromin and Doromal for their role in the murder of Jose Maria Sison, and by Fabian Ver to obey the same order that my mother gave to him, for their role in the coup against former President Marcos. At the same time, Blando had started to lean more towards Tadiar, and it was Blando himself who allowed himself to be captured so that Tadiar and his followers can retreat from Luzon. There is a reason why Tadiar had temporarily moved his headquarters to Iloilo City, and he even thought of moving the capital city of the Philippines from Manila to Kabankalan because the former was becoming too congested, and the traffic there was terrible.
Interviewer: The relocation of the capital city went from Manila to Quezon City was the only time in its history that the capital city of the Philippines changed, and that was during the previous regime.
Aquino: Correction: it was 1948 when Elpidio Quirino, the second President of the Philippines, moved it to Quezon City from Manila. Former President Marcos moved it back to Manila in 1976.
Interviewer: My apologies. What led Tadiar to contemplate on relocating the capital of the Philippines to some city that no one had ever heard of?
Aquino: To him, it was the closest area to where the conflict against the communists and Moro secessionists have been located. He is not a foolish man who can simply direct a war from a city in Luzon. While he may have been brutal in his methods with regards to his enemies, he was however, a rare visionary who saw what could be done to change everything. To him, Manila was a symbol of the decadence he perceived, while Kabankalan would have been the symbol of his vision of the new Philippines.
Interviewer: It is not by accident that Kabankalan became the new home of the 1st Scout Ranger Regiment after Fabian Ver's coup in December of 1986.
Aquino: It is not but let me assure you that I was nearly killed myself when soldiers loyal to former Defense Minister Ver tried to arrest our family on charges of treason. Moreover, the coup also had the effect of bringing Colonel Honasan deeper into my mother's political inner circle and had Gregorio Honasan chose not to pledge his full support to my family, we would have met the same fate as the Marcos and Romualdez families between 1987 to 1989, the time period in which Tadiar's genuine rise to his dictatorship had begun.
---
TADIAR ANNOUNCES AMBITIOUS URBANIZATION PROJECTS IN CENTRAL LUZON AND NEGROS ISLAND PROVINCE
Manila Times
September 19, 2001

Cebu City, CEBU PROVINCE – Major General Artemio Tadiar announces today that several new cities have been selected for one of his major ambitious projects yet, the effort to relieve the congested city of Manila by relocating half of the capital's inhabitants into newly established city centers elsewhere in the country. The announcement comes at a time when natural disasters, such as Typhoon Loleng, which had been one of the worst tropical storms that hit the Philippines and was one of the few natural disasters in which the junta was fully prepared for, with its advanced warning systems for the citizens of the province in range of the typhoon to evacuate.
"We have seen the necessity of not only selecting new areas to develop our future cities, but to relocate some of our people who have been living in Manila for decades," says Tadiar in front of news reporters during a briefing in Cebu City Hall. "We are also planning to move the capital city from Manila to any area of our own choosing, and as I will confirm, it will be at Kabankalan."
Kabankalan was the temporary home of the relocated 1st Scout Ranger Regiment due to former Defense Minister Fabian Ver's attempted coup against then-President Aquino in December of 1986. During the time it stayed in its temporary home, the 1st Scout Ranger Regiment played a pivotal role in the 1986-89 counteroffensive against the New People's Army, in cooperation with other regiments and divisions of the Philippine Army and Marine Corps, as well as their paramilitary units like Alsa Masa. Major General Tadiar was so impressed with his temporary headquarters that he selected the area as the new capital city of the Philippines and selected the location of the new commercial harbor and airport, which he will name it after the first Filipino pilot of WWII to be killed in action, Cesar Basa.
In addition to Kabankalan, another city was selected for his urbanization project, which was revealed to be Carranglan, Nueva Ecija, during another speech back in August of this year. Carranglan would serve as a military city, dominated by new army bases, airfields and a second site of the Philippine Military Academy, in addition to a proposed brand-new university that will also be non-sectarian controlled, in addition to the Far Eastern University. Moreover, Munoz will also serve as a starting conduit for a planned superhighway project that will connect Cabanatuan City with Baguio City in the province of Benguet, through Carranglan and the Nueva Vizcayan of Santa Fe. The junta believes that the planned superhighway would also be perfect for military vehicles, as well as 18-wheeler trucks carrying cargo throughout the planned highway, as the recently renamed Aspiras-Palispis Highway is not enough for vehicles of all sizes to go through, while the infamous Kennon Road has been closed due to a safety hazard in which cars were known to have fallen off the cliff.
"I carry livestock on my trailer every day, and the roads over here are dangerous when it rains. However, the trip to Baguio City is always scary since I must go through Marcos Highway," comments a truck driver who transported several pigs in his truck. "My cousin died while trying to go to Baguio, using Kennon Road, and I'm quite surprised that the good General is thinking of making our lives easier with another set of roads."
The proposal for the superhighway was met with significant opposition however, from various tribal groups who opposed it on the grounds that some segments of the project will go through burial sites and hunting grounds. Environmental activists opposed the project because of how much damage it will inflict on the wildlife that is common in Central Luzon. Most important of all, there are legitimate fears that the proposed superhighway will become a significant target of communist rebels in central and northern Luzon. In sharp contrast, the planned relocation of the seat of government from Manila to Kabankalan is also met with wide skepticism from among Manilenos who did not want to lose their 'privilege' of living in the capital city while worrying about the amount of money needed to spend on their relocation to Kabankalan. In addition, the junta also planned on reviving the sagging fortunes of the chronically underfunded Philippine National Railroad, not only for economic purposes, but to also carry troops to the front lines in the war against the NPA.
---
STAMBOLIC ARRIVES IN PRISTINA AMIDST PROTESTS BY KOSOVO SERBS
The Sun
April 23, 1987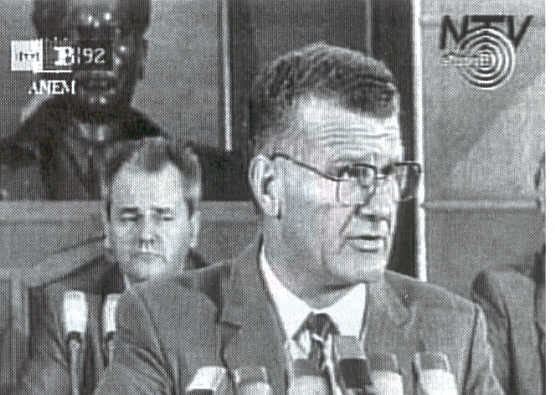 Ivan Stambolic addresses the parliament in the Yugoslav Parliament in Belgrade on the ethnic issues facing both the Serbs and Albanians living inside Kosovo. The Kosovo speech was made a day before his scheduled visit to the troubled province.
Pristina, KOSOVO AR, YUGOSLAVIA – Amidst the growing instability in the Serbian autonomous province of Kosovo within Yugoslavia, 15,000 Serbs and Montenegrins had protested in Pristina against the growing ethnic violence between Serbs and Albanians living inside Kosovo. Local police were deployed to quell the riots, but the ethnic makeup of Pristina's local police force only incensed the rioters as many of the police officers were Albanian. While the ethnic violence flared up, the President of Serbia within the Socialist Federal Republic of Yugoslavia, Ivan Stambolic, arrived in Pristina to discuss the situation at hand and to offer suggestions on improving ethnic relations between Serbs and Albanians.
"The riots that occurred here are tragic, but deeply unacceptable. It is most regrettable that the riots could go unchecked," Stambolic says to the autonomous Kosovar government leaders. "It is up to us to ensure that no such incident could flare up once again."
Stambolic's visit to Kosovo comes at a time when Yugoslavia is facing a deeper economic crisis, fueled by the increasing number of debts it owed to the international community, with an IMF loan being the major catalyst for further economic downturn. Within the Yugoslav communist government, various hardliners opposed Stambolic's trip to Pristina as a fool's errand, with one of Stambolic's emerging opponent declaring his negotiations with the Kosovar Albanian population as 'fruitless' before pledging to go to Kosovo himself to investigate the source of the riots.
"We have neglected our most important province in all of Yugoslavia, and the results are for us to see," says Slobodan Milosevic after being asked about the Stambolic trip. "My heart grieves for the many Serbs and Montenegrins who have to put up with the oppression by the Kosovar Albanian authorities down in Kosovo. My pledge to the people down there is that while peaceful negotiations must go on, they should not be afraid to stand up for their rights. No one should be allowed to beat them and remain unpunished."
Within the Yugoslav military leadership, unconfirmed reports of planned acts of emergency have been drawn up, with Defense Minister Veljko Kadijevic being proposed as a possible candidate to lead what appears to be a Balkan junta if Yugoslavia would face internal collapse. However, junior officers who have been sympathetic towards the protesters in Kosovo feared the repeat of what has happened in the Philippines, with another figure like controversial mastermind of former President Ferdinand Marcos's downfall, Artemio Tadiar, arising from within the Yugoslav military.
"The only positive thing to come out of this mess that Stambolic has gotten us into would be a military solution to the events in Kosovo. If the Albanians continue to keep up with their charade, we will be forced to deploy our soldiers into the streets of Prizren and Pristina," comments Blagoje Adzic, one of Kadijevic's top subordinates. "I for one, do not wish for further conflict within Yugoslavia, but there are times when we have to stop playing nice with the internal enemies within our midst."
---

RISING SOVIET POLITICIAN SACKED BY GORBACHEV FOR ARRIVING AT A PARTY MEETING INEBRIATED
The Sydney Herald
February 7, 1987
Moscow, USSR – In one of the biggest scandals to hit the Soviet government, rising politician Boris Yeltsin had aroused the anger of Soviet Premier Mikhail Gorbachev by arriving at a party meeting while apparently being under the influence of alcohol. As if it was not enough, Yeltsin also arrived late after having trouble finding a taxi due to his driver refusing to drive him into the meeting, fearing the punishment from the KGB for escorting the inebriated Soviet politician.
"Comrade Yeltsin has demonstrated not only his political immaturity while serving the Union, but his psychological immaturity as well. He thinks that this is a joke when he shows up at an important party meeting while under the influence of alcohol. One of the more serious issues facing our Union is the rise of alcohol-related deaths within Soviet males, which is indeed a tragedy. Comrade Yeltsin's condition is an indictment of the alcohol culture that the Soviet Union has unfortunately accepted," says Gorbachev while addressing fellow party members. "Because of the stunt he has pulled, I will rescind his position within the Soviet politburo and with approval of other party leaders and Politburo members, we will work on securing a replacement for the departed Comrade Yeltsin."
While alcoholism has become a hallmark of the declining period within Soviet history, unconfirmed sources say that elements within the Soviet nomenklatura had planned the whole scandal, with the sole intention of nipping a potential danger to the Soviet government. Others say that Yeltsin's deep love of alcohol was a part of his coping mechanism for his insane amount of stress incurred from his work as the boss of the Moscow chapter of the CPSU. Whatever the reason is, various rivals to Yeltsin are positioning themselves to become suitable candidates for his replacement, and while Gorbachev himself has the final say, Viktor Grishin and Grigory Romanov are confirmed as possible candidates to replace Yeltsin. However, in keeping with his desire to bring in younger candidates, Gorbachev has also opened the possibility of appointing unheard of candidates to fill Yeltsin's position.
---
Below: The Proposed Cabanatuan-Munoz-Baguio Expressway. Note that this is not based on any actual road project, but a possible alternative to the Marcos Highway. Even though the road is winding, it provides a good short cut between Cabanatuan and other cities within Nueva Ecija and the border towns within Nueva Vizcaya.