Post by TheRomanSlayer on Dec 6, 2020 23:08:43 GMT
Prologue: What Has Happened Right Now/ Anong Ang Nangyari Ngayon


A/N: This is my first attempt at writing a TL in such a long time, and hopefully this will be a good warm up for future TL projects that I will be doing soon. The way this TL is written may be inspired by another famous post-Cold War TL, "Zhirinovsky's Russian Empire".
---
International Community Watches with Trepidation as Philippines Holds Country's First Elections Since 1986Associated Press
March 16, 2016
Manila, PHILIPPINES – Facing tremendous international pressure as well as renewed UN sanctions on the island country, the Council for National Sovereignty, as the self-style junta calls itself, has agreed to hold the country's first election since 1986 when both former president and dictator Ferdinand Marcos and the late widow of assassinated opposition leader Benigno Aquino Jr.'s wife Corazon Aquino claimed victory at the polls. Though the de facto leader of the CNS has dismissed calls for choosing one of their own leaders to campaign for the seat of President, Artemio Tadiar has not ruled out the possibility of running for the Presidency as an independent candidate, despite not holding any seats in the House of Representatives as a congressman.
"We are not sure if this upcoming election will be considered fair, given that the military junta still holds significant power in the government," says prominent human rights activist Jesse Robredo from his exile in Australia. "The fact that we are still at war with ourselves from what has happened in 1986 is an indication of our failure to create a smooth transition from the Marcos dictatorship means something to our fellow Filipinos, who find themselves scattered around the world."
Not all Filipinos, however, are optimistic about the upcoming election. For some, the upcoming elections only made them more skeptical about the planned transition of power to a civilian-led government.
"My sister has already fled to America because of her ties to the opposition movement that is based there, while my youngest brother was already killed by right-wing death squads for his ties to the communists," Ernesto Sugat comments. "This election will not bring my brother Mateo back from the dead."
Though it is not confirmed, seventeen candidates have filed their applications to the election office in Manila and within weeks, they will receive their confirmation on whether their candidacy will be valid and legitimate. Among them, Rolando Andaya Jr. is confirmed to take part in the election as a representative of the Philippine Democratic Socialists while Rolando Uy is also confirmed to take part as a representative of the United Nationalist Alliance. A party supporting the military junta, the Radical Unity Movement - Bantay, selected Jovito Palparan as its candidate, but it is unsure if Tadiar will accept Palparan as his potential rival. Even mere weeks after the upcoming election was announced for May 9 this year, reports of assassins for hire has circulated.
"I would not be surprised if even one candidate was killed in the first few months of the election campaign, let alone first few days. We have conniving rival candidates seeking to position themselves as a better alternative to whoever dies first," Miguel Siongco comments from his place of exile in Singapore. "My oldest brother attempted to challenge the junta back in 2001 with a campaign to end military rule, but nearly died by the same right-wing death squads. I'm afraid for my life now that these same assassins for hire are now being recruited by the same junta to keep their rivals in check."
A Philippine National Police officer guards a checkpoint between Plaridel and Pulilan, Bulacan, for contraband and other prohibited items, as well as travelers going through and within Bulacan
---
FIFA WORLD CUP 2026 PROPOSED BIDS MIRED BY BID CONTROVERSY
Japan Times
September 23, 2017
Bern, SWITZERLAND – The selection of the next host for the 2026 FIFA World Cup has already encountered several problems, all of them relating to the proposed bids. After the 2002 World Cup when both the former South Korea and Japan proposed to co-host the tournaments together resulted in its rejection and Japan eventually won the right to host the 2002 tournament, FIFA President Sepp Blatter ruled out any further joint bids, leading to a whopping 10 separate bids. With the 2010 World Cup being hosted by Colombia, the 2014 World Cup being hosted by Kazakhstan, the 2018 World Cup being hosted by Mexico and the 2022 World Cup being hosted by Spain, only the member states of OFC and CAF were permitted to submit their bids. Within the OFC, only New Zealand submitted their bid, and even they have a slim chance of hosting, and their proposal of co-hosting the tournament with Australia has been rejected by Blatter personally. The CAF saw Nigeria, Egypt, Algeria, Tunisia and Morocco submit their bids separately, and like their Middle Eastern counterparts, the hot climate might make it a challenge for them to host such a tournament. However, New Zealand's challenge when it comes to hosting the tournament is unique in that out of eight proposed stadiums in New Zealand, five to six of them are used solely for rugby matches, while the rest of the stadiums do not have the capacity to host tens of thousands of fans for football matches. Still, the fact that ten bids have been submitted indicates that FIFA might be seeking to promote the tournament in areas of the world that have not had the exposure to enough football tournaments yet. Korea's only experience in hosting a major tournament was the 2004 Asian Cup when it was the first tournament to be held in a reunited Korean Peninsula. The tournament in Seoul would be known for its infamy when during the final match between China and Japan, there were various fights between the two fans and both teams received a record of 6 yellow cards each and only two red cards each as well. So far, it was one of the few tournaments where both players and fans engaged in sports violence, the other incident being the 2002 FIFA World Cup final between England and Argentina. The tournament also had an additional dark chapter when Chinese fans had accidentally killed a Filipino tourist mistaken for a Japanese fan outside a bar in Pyeongchang, leading to the notorious 2008 friendly match between the Philippines and China PR when Filipino fans not only booed the Chinese anthem (for which the Philippine Football Association was levied a $200,000 for disrespecting the anthem) but instigated fist fights between the two fans.
---
VOSTOK 2016 EXERCISE COMPLETE AS RUSSIA, CHINA, DISCUSS POSSIBLE HUMANITARIAN INTERVENTION IN EVENT OF GROWING INSTABILITY IN PHILIPPINES
South China Morning Post
May 4, 2016
Pyongyang, KOREA – The foreign ministers of both the East Slavic Federation (albeit it was the Russian contingent forces only, and no troops from autonomous Ukraine or Belarus participated) and China met at a summit today in Pyongyang as the elections in the Philippines is coming closer, to discuss options in the event of another failed attempt at a smooth transition of power from the military junta to a civilian-led government. ESF Foreign Minister Natalia Zarudna also proposes a joint intervention in coordination with the United States, Japan and Australia in the event of such failure happening, while Chinese Foreign Minister Wang Yi raises concern of America's motives in its planned intervention should Lavrov's proposal come through.
"We are deeply concerned about various reports of potential voter fraud, as well as planned assassinations of rival candidates occurring. At the same time, we are also advising our citizens who are in the Philippines to leave the country before and during the election, as to avoid chaos and needless incidents," comments Wang Yi in front of reporters after being asked about the election. "For decades, the junta in the Philippines has grown more isolationist as even the United States has started to distance itself from its former colony as a response to the events of 1986."
The comments made by China's Foreign Minister comes at a time when the Vostok 2016 military exercise conducted by the militaries of the ESF (mainly troops from Russia), China, Mongolia and Korea have been completed. Yet with a reunited Korea's foreign policy being that of complete neutrality, it is difficult to assume that Korea may abandon that policy in response to Japan's growing calls to abolish Article 9 of its constitution that forbids it from having a formal military and sending its soldiers off to war. The exercise also comes at a time when the United States, Japan and Taiwan conducted its naval exercise, codenamed Burning Flower, just outside the Ryukyu Island chain.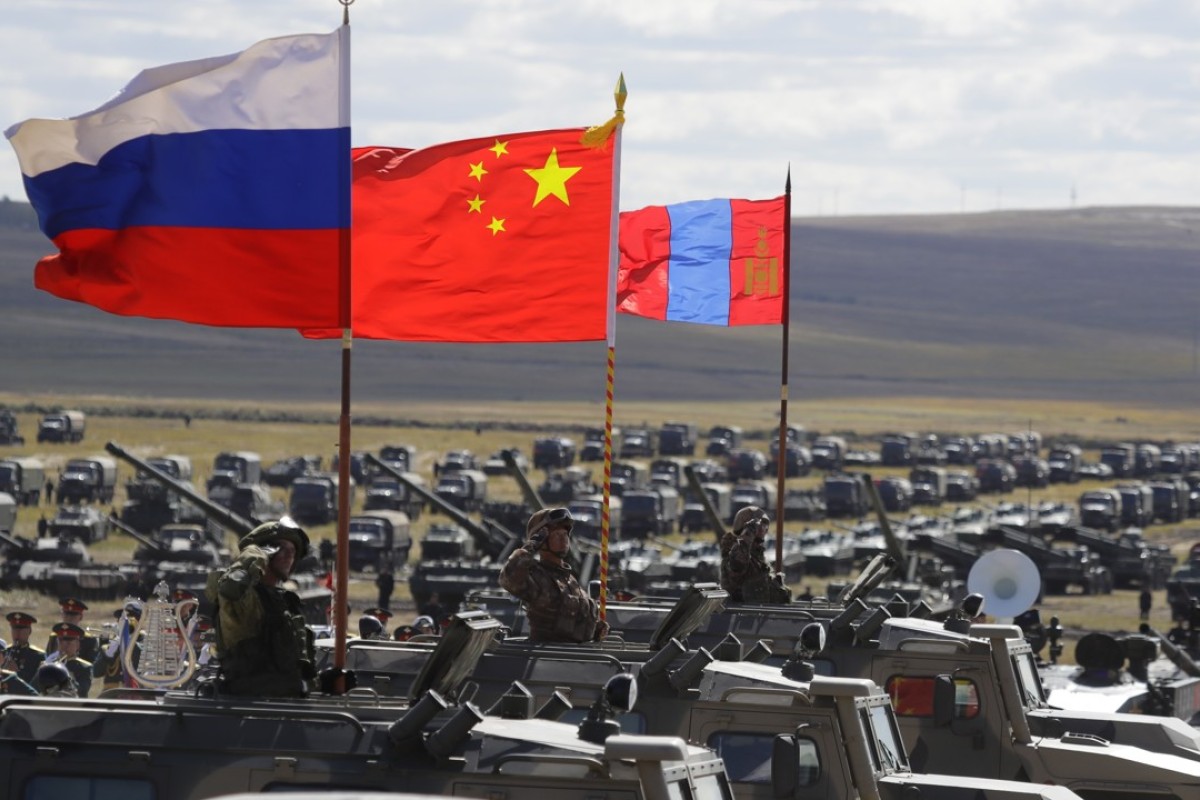 The militaries of the East Slavic Federation (mainly Russian troops), China and Mongolia are present as they conduct their exercise on the Sino-Mongolian border. Another exercise was held at the Tumen River junction where the borders of the ESF, China and Korea meet, which was dominated by the respective navies of the three countries that share the common river on the Tumen.
"Although we are relieved that Korea chose not to align itself with China and the ESF, they are still mad at us for wanting to have what they have: a military that we can claim as our own," an unnamed Japanese soldier said on condition of anonymity. "Our government has also invested more in our own military as a response to China's growing adventurism in East Asia, and we cannot rely on the Americans any longer."
Even within Japan, people are divided over the status of the Self-Defense Forces and Article 9 of the 1947 Japanese constitution. For some radicals within the Japanese nationalist movement, Article 9 garners a lot of resentment from the hardcore radicals who seek to have Japan re-assert itself once more in the international stage.
"Under the Americans, we have fallen so low as to be reduced to servants and underlings within our homeland!" shouts ultranationalist politician Makoto Sakurai in front of his supporters at a rally hosted by the newly formed United Japan Party, a political party that merged from Sakurai's own short-lived Japan First Party, the National Rebirth Party led by former Japan Air Self-Defense Force General Toshio Tamogami and the Japan Innovation Party. Photos of infamous writer and would-be coup leader Yukio Mishima were often seen in Sakurai's own rallies as well. "No more groveling before the foreign barbarians for us! It is time we retake our country back from the weaklings and the traitors who sold us out!"
Though Sakurai has not formulated an official policy yet, he has expressed admiration for the current military junta that rules the Philippines, but so far, he has not made any comments on the upcoming election there. It is not a secret that Sakurai wanted a more assertive Japanese military and the restoration of the Emperor's divine status, but also hopes that under his future administration, should he be voted into power, that Japan would also be allowed to sell its weapons and equipment to various future clients. Currently, the Philippines has surplus American weaponry from the Cold War era and Sakurai is positioning Japan to become the first non-American nation to sell its weapons to the Philippines. Ironically, Korea's government is also hoping to sell its weapons to its future clients as well, with the Philippines being its main target.
---
Next Chapter:
Chapter One