Post by 575 on Mar 7, 2021 14:27:29 GMT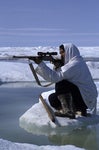 18. September 1905
Blockading Sweden:
Reacting to the Swedish declaration of war the Danish mobilization took place during that week and by the third week of September the Fortress of Copenhagen had been manned by 50.000 troops moving by regular train services and the Danish Navy had taken to sea.
Captain Kofoed-Hansen, head of the Navy Ministry received mobilization orders taking up position as Commander Naval forces Kattegat/Skagerrak.
As such he would detail the operations of the blockade that was declared on Sweden.
Blockading the opponents ports and lines of communications across the waters was a mainstay of Danish Naval strategy that had been employed with success during both First and Second Schleswig Wars. It was more or less the first plan in the drawer of the Navy Ministry though of course the anticipated adversary were Germany. At this time Danish resources wouldn't match German ones but with Norwegian alliance Sweden fitted into the scheme.
Besides the ships used to enforce the blockade the Danish Navy also commanded Mine Ships which would lay mines to restrict traffic in blockaded waters.
Mines could be laid as controlled or non-controlled fields; controlled fields would necessiciate more time to lay as each mine would be wired to a Mine Station set up on land that would control the arming of the minefield.
The advantage of this type of minefield of course being that it would remain unarmed and thus not dangerous to own or other ships until decided to arm.
The non-controlled minefield would of course be armed at the time of laying thus endangering any vessel that should enter it.
By closing the straits to Swedish merchantshipping by the stationing of warships at the northern and southern entries of these with mineships being held ready as well as mobilization of the Danish Navy in general would of course provoke the maritime nations.
To enforce the blockade dispatching of a force of the Elswick Cruiser Valkyrien and three mini-Elswicks to blockade the Swedish Kattegat ports and a joint Norwegian Danish Squadron of modern Coastal Armoured Ships would be blockading Göteborg which was seen as the major Swedish Naval Base on the Kattegat coast and where during the crisis the Swedish Navy Coastal Squadron of eight modern armoured ships had been deployed at Kalfsund.
For the time being the Swedish protested the blockade as did Germany and Russia as well as a number of countries whose merchantmen would prowl the waves to enter the Baltic.
No other ships than Swedish would be stopped from entering the Danish straits and the Swedish Kattegat ports.
The Swedish merchantmen would be convoyed by Danish or Norwegian Torpedoboats to either Danish or Norwegian ports for unloading goods and internment.
Just to clarify does that mean that 3rd party flagged ships are still able to sail into Swedish ports? Is so Sweden can, albeit possibly with some additional costs, continue commercial trade but would be restricted from military use of the waters and their flagged merchant ships are being interned.
There will be an issue if a 3rd party ship, especially from a major power [say Britain, Germany or Russia] hits a mine due to say navigation error either by them or the mine-layer or a mine working loose of its cable say. If that happened have to see how everybody handles it.
Steve

Absolutely we are just Scandinavian small-fry and no pirates and even with the blessing of father in law Edward 7, we certainly don't want to step on some major Powers sore toes.
This will of course serve to lessen the effect but I'd figure this only is going to have an effect if war drags out. Everybody wants it to stop so that major issues such as Morocco may be attended to.
I'd expect Denmark and Norway counting the hours until somebody major steps in mostly of course to tell the Swedes "naughty, naugty" and the Swedes counting the hours hoping for this to happen AFTER their troops march up the Carl Johan in Kristiania/Oslo!
The Danish minefields are not armed until ships not wanted should enter them - Danish policy even during WWI. I don't expect them do so here. Of course night is such a dark time where unwanted events may unfold due to low visibility. Not that it may happen necessarily ITTL.