Post by lordroel on Mar 20, 2021 8:27:31 GMT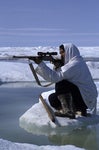 Like brothers:
To some Scandinavians the Norwegians looked like able to walk on water following the peace treaty but the Norwegians didn't forget the help offered by the Danes nor the sacrifices shared in their short but bloody struggle for independence.
Some clearheaded Norwegian officers well realized that the contribution of the Danish Navy in fending off the Swedish planned amphibious operation shouldn't be downplayed.
Without that Norway would have come out of the conflict in much worse shape. Yielding command to the well trained Danish Navy officers had been a necessity in the situation of Norways struggle for life.
That the Danes had kept the land contribution small was critized but also realized to be a necessity to deter any Swedish attack on Copenhagen or a German military demonstration in Jutland.
The Danes just knew they couldn't walk on water but were fairly close the Norwegian officers well agreed.
As such it was only natural for Norway to ask Denmark for a mutual defence treaty to deter Sweden from any future adventures which of course would also be a strengthening of Denmarks position vis a vis Germany.
This being something of a gamble Norwegian Premier Christian Michelsen realized and really too much to the benefit of Denmarks but it was imperative to secure Norwegian independence at the moment. If only the Russians had brought their house in order a little sooner to distract the Swedes' attention to the east; but then you cannot have all your wishes come true. A true neutrality the ultimate objective of Norway but in the present situation less had to suffice.
In the heat of the moment nothing seemed more appropriate or right to Danish Foreign Minister Raben-Leventzau or Primeminister I.C. Christensen; though the latter had designs on a rapprochement with Germany too and viewed the alliance as a lever in that potential conflict.
The Schleswig question as always at the forefront of Danish politics.
With Germany still at odds with France the window of opportunity kept open and a formal treaty of mutual defensive assistance would be entered by Denmark and Norway.
The teaty wasn't made public but the movement of Danish and Norwegian members of Government between Copenhagen and Kristiania/Oslo was telling to observers.
Then of course it was only two third rate powers joining up on a second rate so why care? Back to Morocco. The real deal!
By 1906 and the conference of Algeciras ending on 7. April the window of opportunity closed for the time being.
So a Danish-Norwegian alliance, wonder if that will still be in effect 35 years later.