Post by miletus12 on Jun 14, 2023 15:55:35 GMT
Okay, it is 1930. You have been treaty limited to the number of battleships, cruisers, and destroyers you can build. There are some legal questions about submarines. The French are about to wreck the 1930 conference over the cruiser question, and the Italians will continue to me-too with the French.
The Japanese are in the middle of a complete government melt-down, which they will not ever solve until someone else solves it for them.
That leaves the Americans and the British as the "rational" actors.
So how are they "acting rationally" in light of the OP conditions and with the treaty they have and the naval history and theories they have?
The British navy is somewhat worried
. They have built out their cruisers to some extent. They sorted out their battle-line to a slow and fast squadron of battleships. Not only that, but they think they understand Jutland and what they need to fix as learned lessons. The British have a bevy of aircraft carriers, which they do not begin to understand. They run a low expenditure, but for them high priority anti-submarine warfare program.
And for the moment, they have a fleet air arm that keeps trying to perfect the air-dropped torpedo. They might get that idea to work eventually.
There is no budget for fleet expansion. What money they do have; they put into effectors. They make the WWI learned fixes to their anti-surface ship guns. These work better in the existent ships. In the new ships, the guns are garbage. The British do not put in the technical fixes. The British do not neglect human training, but what they train doing, is not what they should train doing. They neglect ASW or only haphazardly test theory out. But when it comes to the surface battle, the British work out their communications and their battle drill. They have that part of tactical employment down pat. Cruiser admirals and destroyer captains know their fighting instructions. And of course, being good friends with the IJN, the British pass along all of these "improvements" they make to an already dangerous and capable (American enemy) navy.
Is it any wonder that the British grind the American navy's gears?
But the British navy is not worried about the Americans. They have been assured by Whitehall, that not only do the Americans not want war; (true), but that in general, nobody in this general economic debacle, will be able to start a war for at least ten years.
In the meantime, ten years is a long time to build up Singapore, figure out a decisive battle plan for the South China Sea in the unlikely case the Japanese get frisky, and fix the anti-aircraft gun problem, the lack of escorts problem, the divergent cruiser shell-ladder problem, not enough sonars, and have you heard about this contraption called a radio echo locator, Smedley?
The British keep putting off the urgent fixes they need to start now.
===============================================================================
The Americans...
The Americans have three major problems from their real history.
a. Their admiralty is riddled with glad-handers and idiots who were vomited into career prominence by
the idiotic Josephus Daniels
, who thought political yes-men and a teetotaler navy were more important than a war-ready one. The hard-chargers were either delayed up the career ladder or forced out. This
walking piece of manure
destroyed the fine navy Theodore Roosevelt gifted to the nation, the same navy that would have trounced the U-boat menace in 1919 had the idiots of WWI continued their butchery on land. That was what all those 4 stacker destroyers were built to do for the allies.
b. Block obsolescence of escort ships and destroyers along, with too few flotilla leaders, was a severe material handicap. The same idiot officers, who emerged from
the criminal Wilson administration
, with
that despicable man as their ultimate mentor,
built an unbalanced fleet. In the social justice sense, it applies to the material condition of the fleet that those imbeciles skewed, not only by adopting his segregation of human beings in the fleet's human material, but also by the actual segregation of material as in ships. That battleship happy set of yes-men cretins, was as stupid and Wilson incompetent as Thomas Jefferson had been about gunboats in the days of the sail frigate.
No cruiser core.
c. Defective strategy and inadequate or rather inappropriate tactics; the USN literally disowned the lessons of its history as to cruiser warfare and what little fleet combat it had learned. The navy of Teddy Roosevelt was terrified of mines, torpedo boats, torpedoes in general and the possible threat of commerce warfare. As a converse, it had built itself into a sea-control / sea denial navy, a smallish one as much as Congress would fund, to have a police function on the world ocean as well as control American home waters. By 1908, not even the British navy was stupid enough to think it could fight in the western Atlantic and win. Germans? Not-too-bright would describe Tirpitz and his crew of nitwits, but at least the incompetent Admiral John Fisher thought it was a bad British idea to go looking for trouble when the Americans were not offering any.
Then Wilson went battleship happy and the wrong officers (gun clubbers), who would not know sea control and sea denial, if
you slapped them in the face with his first volume on the subject
went Jutland crazy.
=======================================================
The smart money in the American navy was riding on the airplane (with associated aircraft carrier base ship), destroyer, and the submarine as the new naval launch platforms for sea control and sea denial. As such, it was of utmost importance to the Americans to work on everything associated with those launch platforms as to tactics and effectors. The USN did not have to have the best airplanes, and submarines that used the nest bombs, and torpedoes. Nor did it need the best AAA guns and anti-ship weapons for its surface forces, which were to protect freighters and attack enemy commerce-destroying ships and submarines and aircraft. But the stuff, as effectors and launch platforms, the Americans were to have had to work. And
the navy which used and was composed of that material needed an operational art and tactics set of principles to apply those launch platforms and effectors in a coherent and sensible pattern to use for itself and the nation and deny the sea to an enemy at times and places as the American government chose.
Basically the Americans needed to create / update a cruiser force for presence, fake a treaty compliant force of "frigates" which could convoy escort, create an effective ocean going force of submarines to destroy enemy commerce. They needed to apply the torpedo and the bomb as the anti-ship weapons of choice.
To that end, I suppose if I were the monkey, and I was in that barrel, I would want to beg Congress for the money to
1. develop a thermal chemical (oxygenated paraffin) torpedo for USN launch platforms that operated sort of like a slow mono-propellant that could generate gas like a slow burn rocket motor. Submarines and destroyers could use the same fish. The airplane that would have to carry it (estimated 2,000 kg) would be a huge bird by aircraft carrier standards. Modify the aircraft carriers accordingly. Test that torpedo until you know it works. Keep it simple, Susan.
2. electric torpedo is a given. You need a "cheap" plan B to kill freighters.
3. glide bombs. Yes, Orville and Wilbur worked out radio steer long before the Germans did.
4. a Gatling version of the pom-pom.
5. the 5/38 early and often. Plonk it onto anything that can carry a 50 ton mount.
6. An American version of the Dido. See 1 and 5. Work at it until you get something like an oversized Fletcher class destroyer with 5 twin mounts, a pair of quintuple torpedo tubes and at least 4 of those Gatling 2 pounders. Heavy escort?
7. How about a twin engine torpedo bomber for ship and shore use?
8. Blimps. If it flies with the convoy, it can at least look for a sub. An armed blimp can drop things to annoy that sub.
Sonars and radars, can be stolen from the British. The thing that cannot be stolen is strategy (At which the USN is good, it is the British who are lousy. M.), operational art, at which the Americans can learn in fleet problems, and tactics, in which the 1930 Americans are clueless. Play with the British and learn how to night fight by beating in war-games.
=====================================================
Operational Art.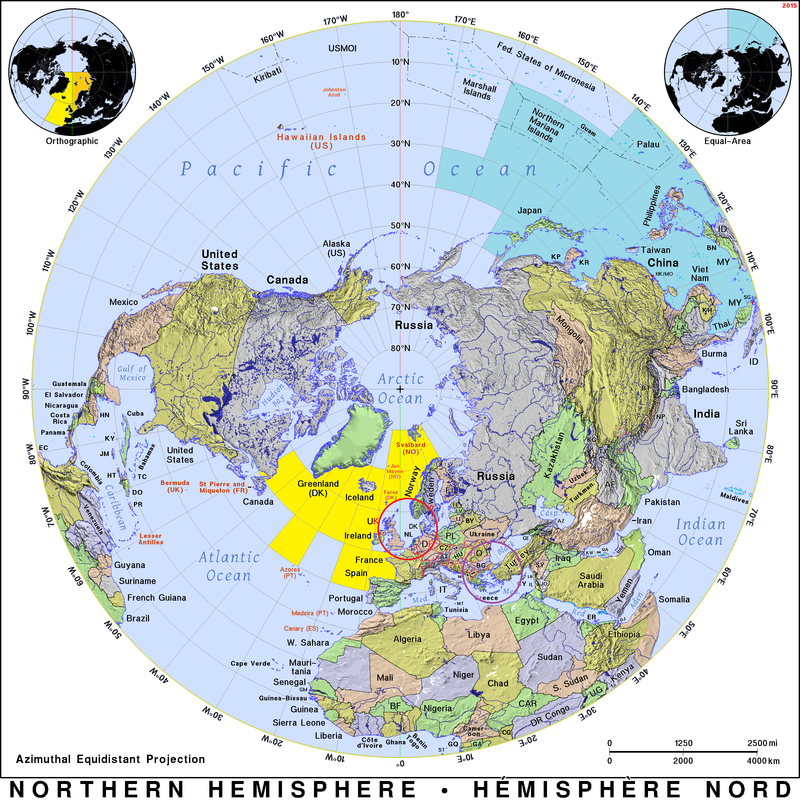 www.slideserve.com/sybill-
The essence of the naval operational art, as most people do not understand, but which Mahan did, because he could read a map, (Dennis Mahan his father taught him. MJ.), was that nobody has enough navy to control the world ocean. Smart navies cached their platforms and effectors into such means and into those areas they needed to control for their national objectives.
That sounds a little like Corbett?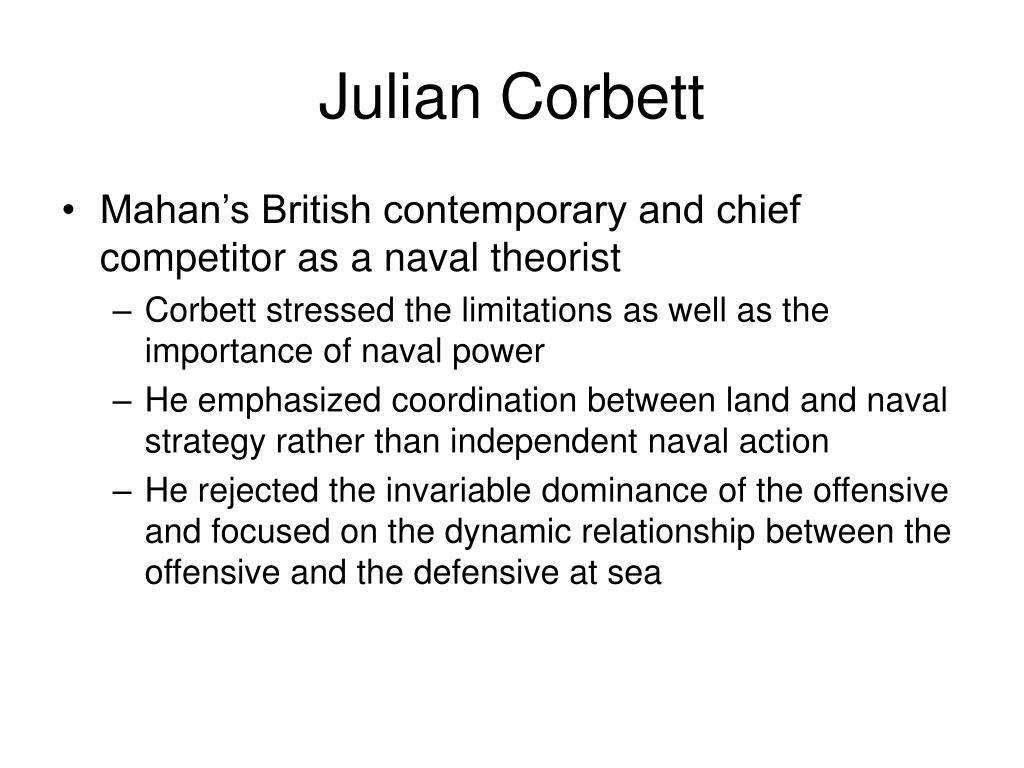 That is stupid. You cannot defend a patch of ocean, nor should you. You can use "naval geography" to control access to the world ocean. You can also use sea denial as a means to inhibit enemy use of the world ocean to conduct commerce and generate wealth, which is the "American version" of the Aube school of naval action, called "Jeune Ecole". This fundamental difference of Mahan with the incompetent Julian Corbett is based on the misunderstood nature of the ocean as an area of battle instead of as a transit means from one shore to another.
To Mahan, there were patches of ocean where shorelines and WEATHER EFFECTS created maritime traffic constrictions, which we today call "chokepoints". The storm tracks of the Pacific Ocean, make maritime traffic avoid the Typhoon Belt or hug the east Asian coasts. That is a constriction or chokepoint.
If you are the American navy and you have no overseas bases, and rather fewer warships than the British, and will have fewer warships thanks to Congress, then you are going to want to buddy up with the DUTCH, and if you can decouple them from the British, the Australians.
You are also wanting to become a submarine and land based and aircraft carrier based air force sea power.
The principle is called "economy of force". The intent is to build a system of platforms and effectors for an economically poor country, that can neutralize the biggest threat to the American use and exploitation of the world ocean out there.
I do not necessarily mean Japan, but for grins and giggles, let us insert "Japan" into the problem. It is obvious that you would want to isolate a navally "difficult" geographic "convergent traffic flow" off the east "Japanese" coast? You want your "platforms" to have a tactical radius of 5,000 nautical miles and station keeping endurance of at least two weeks. You probaably are going to want to know other conditions of where you intend to operate?
From your American point of view that does not look promising. The South China Sea and Eastr China Sea are ASW bathtubs with very shallow bottoms and good sonar conditions for the Japanese. Also, the area looks perfect for aircraft coverage to deny daylight surface operations. NOT TOO GOOD. The same goes for the Sea of Japan and Japan's east Pacific coast.
You might want to invest in some quieting of your platforms, thick hulls and as soon as the Dutch or the Italians invent it, a snorkel. As for effectors, since you are out to kill freighters (Operational naval art; SEA DENIAL.), you want an ELECTRIC torpedo.
What you need to do for use of the sea in war, drives your effector and platform characteristics. Notice that the battleship has taken a very back seat?
You might also want to want to really work hard on this:
All of this you could figure out from what you knew in 1930.